LONG LIFE OF GRANITE SINKS
During everyday use of granite sinks various stains, such as limescale and water stains, appear on their surface. In order to prevent this from happening, we recommend wiping the surface of the sink after every use, thus not allowing water to dry out. This will significantly reduce the build-up of scale and make subsequent cleaning and care easier.
MILÓ offers professional cleaning agents for care and preservation of granite surfaces, both natural and artificial.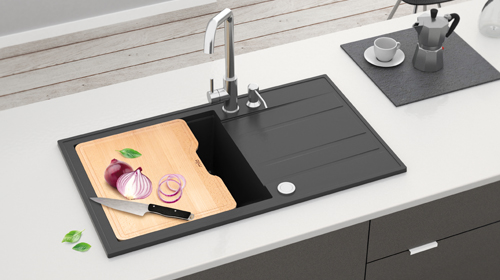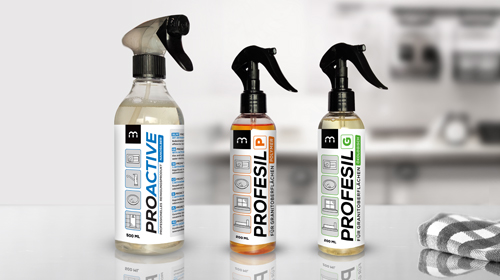 PROFESSIONAL MILÓ PRODUCTS
PROACTIVE - cleaning
PROFESIL P - regeneration and impregnation
PROFESIL G - care and refreshing
PROACTIVE - professional cleaning agent.

Humidity, food residues and high temperature are conditions that promote the growth of bacteria on the surface of the sink. To prevent this from happening, it is necessary to clean it regularly. Use a professional cleaning agent PROACTIV with active silver molecules. This way, you will maintain the appropriate level of hygiene. Its unique, active formula sucessfully removes limescale deposits. Innovative active ingredients form a protective layer on the cleaned surface, thus reducing the re-deposition of dirt and making future cleaning easier. The product leaves a pleasant fragrance and renders a high gloss, without leaving streaks.

PROACTIV is perfect for cleaning various surfaces: worktops and sinks, bathroom ceramics, plumbing fittings and shower cabins. It is a proven solution in both kitchens and bathrooms.
PROFESIL P - professional agent for regeneration and impregnation of granite surfaces

Continuous contact of these surfaces with hard objects (rims of dishes or cutlery) may cause the appearance of minor signs of use, including small scratches. In order to eliminate them and preserve the aesthetic appearance of the sink for a long time, use our professional agent PROFESIL P.

Thanks to an increased amount of polymers it perfectly regenerates the surface, masking the surface scratches and tarnishes. It fills the micropores, penetrating the structure of granite.

It is characterized by a high level of hydro and oleophobization - by creating a protective layer, it protects the surface for a long time against absorption of water and deposition of dirt. It highlights the colour and gives the surface a satin sheen.

It is recommended to use impregnation depending on the intensity of surface use, at least once every 3 months.
PROFESIL G - professional agent for everyday care and revitalization of granite surfaces.

With regular use of our ecological product PROFESIL G you can easily take care of your sink. It is a product with polymers, based mainly on natural ingredients. It fills the micropores and penetrates the structure of granite. It will reduce water retention on the refreshed surface, thus reducing the amount of limescale deposited. It will give a satin shine to the treated surface and will make future cleaning easier.

For effective care, it is recommended to use the product on a daily basis.
Regular use of the PROFESIL range of products significantly reduces the need to use detergents and extends the life of granite surfaces due to its numerous corrosion inhibiting properties. Both solutions also clearly enhance the colour of the treated/restored surfaces.